Dollar stores have been around for a long time. As a child, I remember the joys of shopping for small Christmas gifts for my family in the little dollar store in the strip mall next to Walmart in the town where I grew up. I could buy a candle for my mom, a gag gift for my dad, and small toys for my younger siblings. When I went to college, the dollar store was a place to buy inexpensive laundry bags, decorations, and storage containers for my dorm room. As an adult, dollar stores can offer deals on essentials such as laundry detergent, facial tissue, greeting cards, and more.
Of course, dollar stores can also be filled with pitfalls. Cheap, poor-quality plastic toys, generic food brands that might not taste good, or toilet paper that doesn't feel so good.
So what are the best products to buy at dollar stores? In particular, what are the best deals at Dollar Tree? Dollar Tree is a deep discounter, the cheapest of all the dollar stores out there, including Family Dollar and Dollar General. Just about everything at Dollar Tree costs $1.25, with the exception of products in their new Dollar Tree Plus line which cost a little more. Can you even get anything good with just $1.25?
Below are our top recommendations for products to buy at Dollar Tree.
Laundry Detergent
Priced at about 3 cents per ounce, this is the cheapest laundry detergent we've ever found anywhere. This brand isn't exclusive to Dollar Tree, but it's only found in certain deep discounters and specific value stores. It also gets clothes as clean as other detergents we've tried.
Reading Glasses
If you need readers or "cheaters," you can get them for just $1.25 at Dollar Tree. Reading glasses are fairly inexpensive at a lot of retailers, but if you're looking for a place to buy a variety of styles, you won't find them for less anywhere else, not even on Amazon.
Teacher Supplies
Dollar Tree has a fairly substantial teacher's corner that includes bulletin board decorations, flash cards, maps, stickers, pencils, and more.
Craft Supplies
Not far from the teacher's corner at Dollar Tree is another special aisle: the craft section. Here you'll find everything from embroidery and cross stitch supplies to yarn to paint to simple project kits.
Holiday Decorations
Dollar Tree constantly rotates seasonal décor onto its shelves, with bunnies and eggs in the spring, patriotic themes in the summer, pumpkins and ghosts in the fall, and plenty of Christmas decorations in the winter. Some of the seasonal items at Dollar Tree are actually pretty nice looking and you might not guess they came from a dollar store.
Gardening Supplies
Dollar Tree and similar dollar stores go all out for spring and the gardening seasoning. You can find seed packets, planters, garden gloves, and even fairy garden supplies at Dollar Tree. We've discovered dollar store seed packets grow about as successfully as other commercially purchased seed packets, although you might not get as many seeds in each envelope.
Facial Tissue
Dollar Tree facial tissue isn't super soft, but it's adequate. You can use it at home if you don't mind not having the most plush tissues. Where dollar store facial tissue really comes in helpful, though, is in school or work settings where the stuff tends to disappear quickly. One of our writers who works in education appreciates the fact that he can stock his space with tissues without spending a lot of money.
Knockoff Girl Scout Thin Mints
Dollar Tree's fudge mint cookies taste like real Girl Scout cookies. These are made by Interbake Foods, and one of their subsidiaries is ABC Bakers, which makes several types of Girl Scout cookies, including Thin Mints. These Dollar Tree cookies have a yellow or vanilla interior instead of a chocolate interior like Thin Mints. In every other way, though, these are just like Thin Mints.
Greeting Cards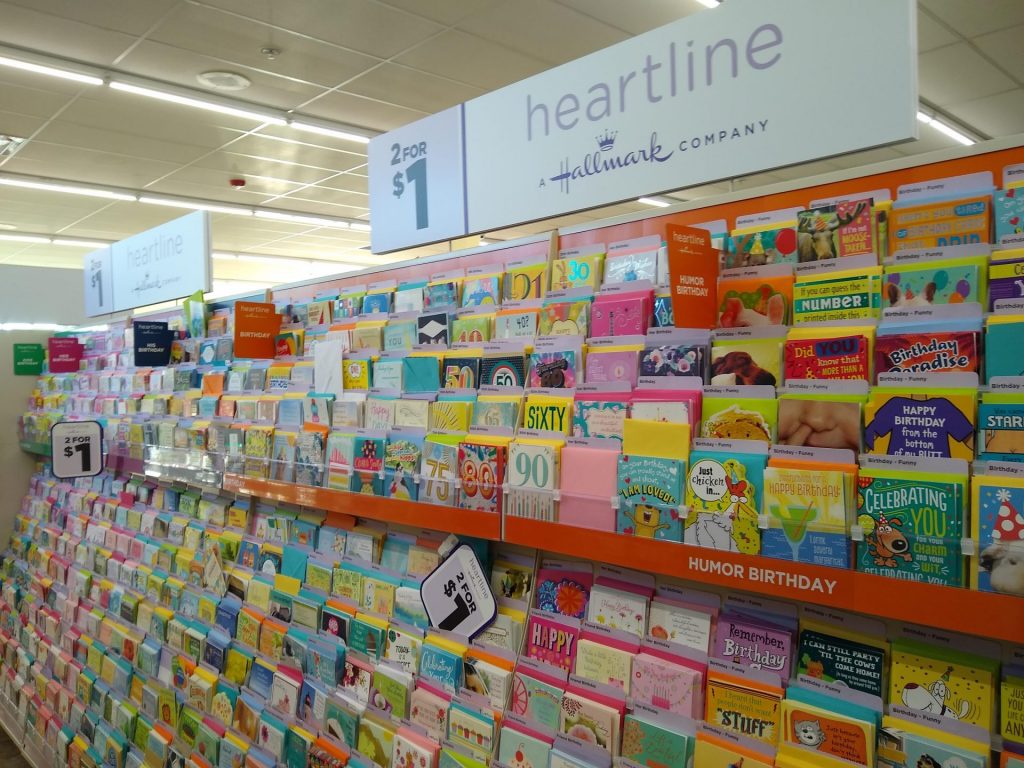 Greeting cards can be expensive for a product that people typically read or display for a short time and then recycle or toss in the trash. I'd rather not pay $3 or $5 or even more for greeting cards from a drugstore, big box store, or large grocery store. Instead, when I need to purchase birthday, wedding, or bereavement cards, I go to Dollar Tree where most of their cards are 50 cents each. What's even better is that Dollar Tree cards come in all sorts of varieties and designs. If I want a funny birthday card, for instance, I can find one at the dollar store.
---
What are your favorite products at Dollar Tree? Let us know in the comments below.